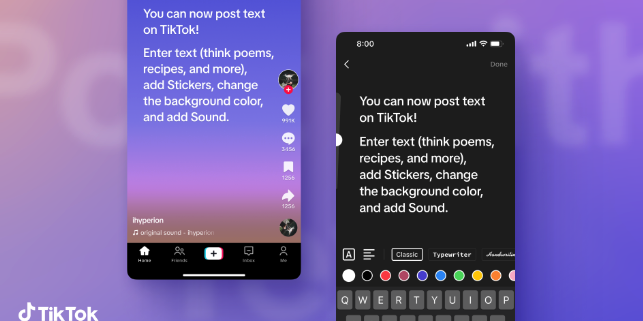 TikTok levels up with its new text-based format
In an exciting turn of events, TikTok, the world-renowned video-sharing social media platform owned by the Chinese tech giant ByteDance, has announced its latest feature — text-based posts.
The new feature offers users a new format to share their creativity besides images and videos – recently extended to a maximum of 10 minutes lenght.
Considering Twitter – recently rebranded X – current uncertainty, it's no surprise that TikTok is stepping into the text-based sphere along with recent newcomers like Mastodon (a distributed social network), SPILL, and Bluesky (still invite-only).
However, being a more established app like Meta's Threads, an Instagram extension rather than a new channel – which lost more than half of its 100M self-claimed users just a week since its launch and it's not available globally – TikTok stands at a vantage point compared to its competitors.
Essentially, text posts on TikTok give users an alternate way to display text-focused content on the application.
TikTok suggests that this feature facilitates creators and brands to "share their stories, poems, recipes, and other written content" – but no web links – on their platform.
TikTok users can write up to 1K characters and personalize their posts by incorporating a song, sticker, or any other well-loved TikTok features.
Unlike Threads by Instagram, which is not available in Europe and many other countries (including China), the text post feature of TikTok has already been introduced globally. If you cannot access it, ensure your mobile app is up-to-date.
How to use text posts on TikTok
Creating your first text post on TikTok involves four simple steps.
Launch the app and tap on the "+" camera icon before selecting the "Text" option from the navigation bar at the bottom of your screen.
Add your preferred text in the prompt "Type something…" Here, you also get options to alter your text's font style, colour and alignment (keep in mind that there's a 1K character limit).
After this step, you can customize your post by adding a song, changing the background colour, or sticking a sticker.
Lastly, tap "Post to feed" or "Your Story" to share your creative text post!
With time we'll see if TikTok's community embraces this written format as enthusiastically as they did with images when first introduced.
It's worth noticing that a few months ago ByteDance also launched Lemon8, a kind of anti-Instagram channel mostly targeting influencers (fashion, food and travel), gaining good traction in markets where it's available (including the USA).
https://paolomargari.it/wp-content/uploads/2023/07/tiktok-text-posts-anti-x-social-media-threads-twitter.png
353
643
Paolo Margari
https://paolomargari.it/wp-content/uploads/2018/04/paolo-margari-1.png
Paolo Margari
2023-07-31 19:54:09
2023-07-31 21:16:25
After the disappointing Threads, TikTok also tries to challenge X